Two hundred years ago, the Jarrold family arrived in Norwich, changing the high street, and Norwich's relationship with shopping, forever.
Opening on Cockey Lane (as London Street was then called) in 1823, the flagship Jarrolds department store started life as a bookseller and printer, moving into its current location 17 years later. And while other local department stores lost their relevance and closed, our Norwich institution continued to grow, withstanding two world wars, the dawn of internet shopping, and most recently, a global pandemic.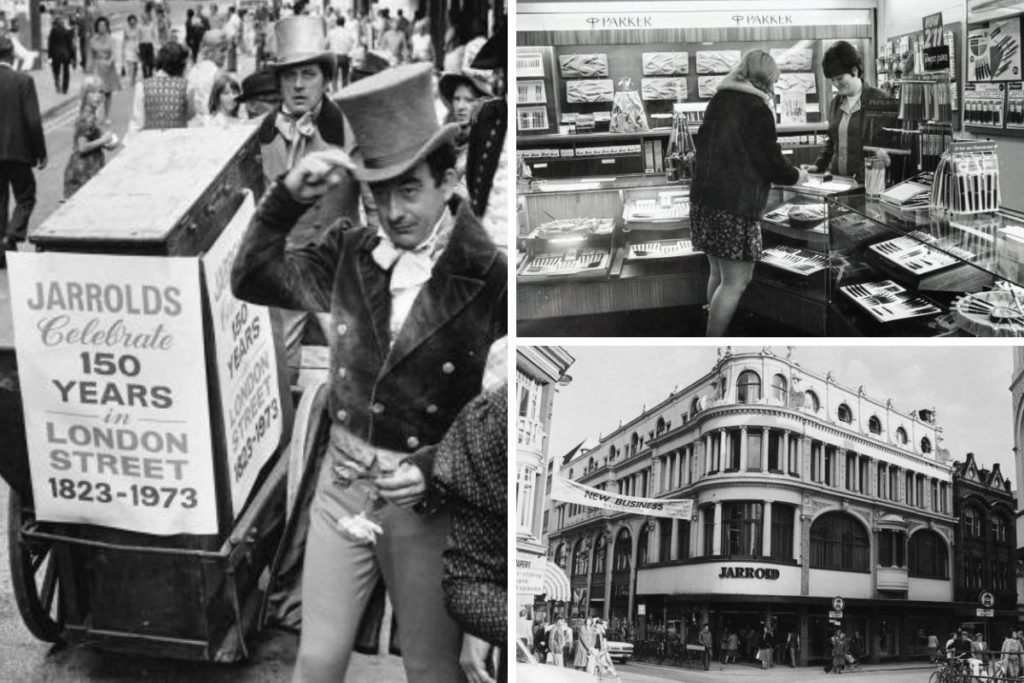 Today, we celebrate our 200th year in Norfolk. Caroline Jarrold, one of three Jarrold family members still working within the company, said the business was looking forward to another two centuries of success. She said "we've never stopped evolving. One of the strengths of a family business is it can choose to be very flexible".
The shape of retail and its position in the market continues to shift, not only because of broader access to more online but what customers deem value continues to evolve. It is the perceived value a customer gets that determines whether that offering prospers in a world where the customer is king, delivering customer-centricity is no longer enough to confer loyalty or advocacy.
Instead, we must look for ways to integrate ourselves into the everyday lives of our treasured customers by delivering tangible and intangible value. Success in Norfolk will be defined by the ability to build a trusted long-term relationship with the residents and fans of the County; the simple act of transactionally selling products will no longer be enough.
If we are to succeed we must continue to develop our point of differentiation in the experiences, services and products we offer. Otherwise, we will find ourselves in a race to the bottom on shaving margins or cutting costs to bring down prices in a landscape where consumers themselves are more mindful about what they buy and the experiences they want. This resonates with our strategy as a retailer, as a 200-year-old start up, providing more than a customer can get online and more than the national high street and is really the point of differentiation that we ask of our colleagues, our suppliers and offering.
In the year 2000, we faced one of our biggest challenges in modern times: the arrival of Chantry Place. Boasting a modern premises and some of the biggest retail brands in the UK, Jarrolds managing director John Adams said the shopping centre posed an existential threat to their business.
However, with five years notice, the company launched one of its biggest revamps in its history, expanding into its corner plot and making over a different floor each year. And, according to Mr Adams, it worked. He said "in any business you need a steady investment plan so that you are not suddenly caught off guard. A lot of businesses get into trouble because they don't do anything for years, and then suddenly try to fix things all in one go and get into financial difficulty. Even after the tough covid years, we still had the confidence to invest to keep moving things on. We call ourselves a 200-year-old start up, because that's the approach we take."
For retail buyer Jenifer Dwyer, who has worked for the company for 16 years, attracting 'big, shiny brands' has been a major part of the store's continued success, and a testament to its reputation. She said "it was a huge moment signing brands like Jo Malone, Mac, and Charlotte Tilbury. They are luxury brands and want to protect their image, so you have to really prove you're a worthy retailer. Our standout point is not only are we an iconic store, but we're a local business, which means we can adapt quickly, unlike the nationals."
While the department store may boast many a national brand, Ms Jarrold said giving local businesses a platform was still at the heart of its strategy. In 2021, the company launched its online marketplace Store Folk, dedicated to flying the flag for local brands and supporting shoppers looking to buy quality closer to home. Featuring more than 80 artisans, artists, and makers, Ms Jarrold said the project was a continuation on the company's centuries old commitment to the local economy. She said "being so locally rooted has been a huge advantage for us. Whereas companies like John Lewis have to try and appeal to national tastes, we can focus in on what people want here in East Anglia. That is going to remain our priority as we go forward."
But it is not only here in store, and within retail. It is where we see a broader role for us as a Group, offering a training programme, an office or facilities management becomes more than a service but a choice.
We have a logistics operation that can store stock for those businesses that have outgrown their sheds, or pick, pack and post the online sales for businesses alongside the 6,000 parcels we send a week during peak. We can offer tailored training solutions for businesses as they grow and recruit more staff, provide flexible office solutions in the same vein or provide facilities management services.
Our success as an organisation is predicated on the strength of the Norfolk business community and the continued appeal of it, so the future development of our business interactions it brings are in part our way of giving something back, not least to ensure our own continued progress.